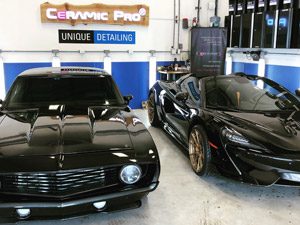 Protect Your Vehicle with Ceramic Pro®️
Ceramic Pro Vancouver SW powered by Unique Detailing located at #50 Southwest Marine Drive in Vancouver is a division of Unique Detailing. We are the longest lasting mobile detailing company in Metro Vancouver, and the first flagship location for Ceramic Pro in British Columbia. Book your appointment today or call us to have us come to you.
Products
At Ceramic Pro Vancouver SW, we are closely monitoring the development of COVID-19 and taking guidance from local health authorities. Our primary concern is keeping clients and employees safe.
We ask that you do not enter our facility if you have a fever, cough, difficulty breathing or sore throat.
We also ask you not to enter our facility if you have travelled outside of Canada within the last 14 days or have been in close contact with anybody who has been diagnosed with COVID-19.
We are ensuring that we disinfect vehicles and keys before and after the service is completed.
We also encourage appropriate physical distancing at our shop and with our mobile technicians.
COVID-19 Cleaning & Sanitization
Call us today or book an appointment with us to inquire about which product is best for your vehicle.