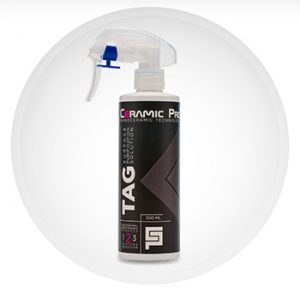 Ceramic Pro Tag
Ceramic Pro Tag Air and Surface Purification Solution
Professional Anti-Microbial Spray Coating
It's now more than ever important to disinfect the interior of your vehicle. Introducing Ceramic Pro Tag!
Ceramic Pro TAG is completely safe and non-toxic and designed to purify surfaces from bad smells, disease causing pathogens, mold and other issues caused by microbes, bacteria and viruses. Its action is based on photocatalytic effect and lasts for up to 6 months.
Features
Anti-viral effect
Anti-mold
Anti-bacterial
Photocatalytic purification
Silver particle protection
Tested & Highly effective Against Most Known Pathogens. Including The Following:
Staphylococcus Aureus
Escherichia Coli
Salmonella Enterica
Pseudomonas Aeruginosa
Sanitize & disinfect your vehicle today with Ceramic Pro Tag Air & Surface Purification!